What is SoftMaker FreeOffice?
SoftMaker FreeOffice is a free proprietary office suite developed by German software company SoftMaker for the Windows and Linux platforms. It includes TextMaker for word processing, PlanMaker for spreadsheets, and Presentations as an alternative to Microsoft Word, Excel and PowerPoint respectively.
Key features include a modern ribbon-style interface, high compatibility with Microsoft Office file formats (.docx, .xlsx, etc.), and basic editing and formatting capabilities for documents, spreadsheets and presentations.
Unlike its paid office suite, FreeOffice is free for private and commercial use with no feature limitations or time restrictions. However, technical support and software updates require purchasing the paid version.
FreeOffice uses less system resources than bigger suites like Microsoft Office, while still providing essential office software functionality at no cost. With its straightforward interface and cross-platform availability, FreeOffice remains a convenient free alternative to Microsoft Office for basic personal and office use on Windows PCs and Linux.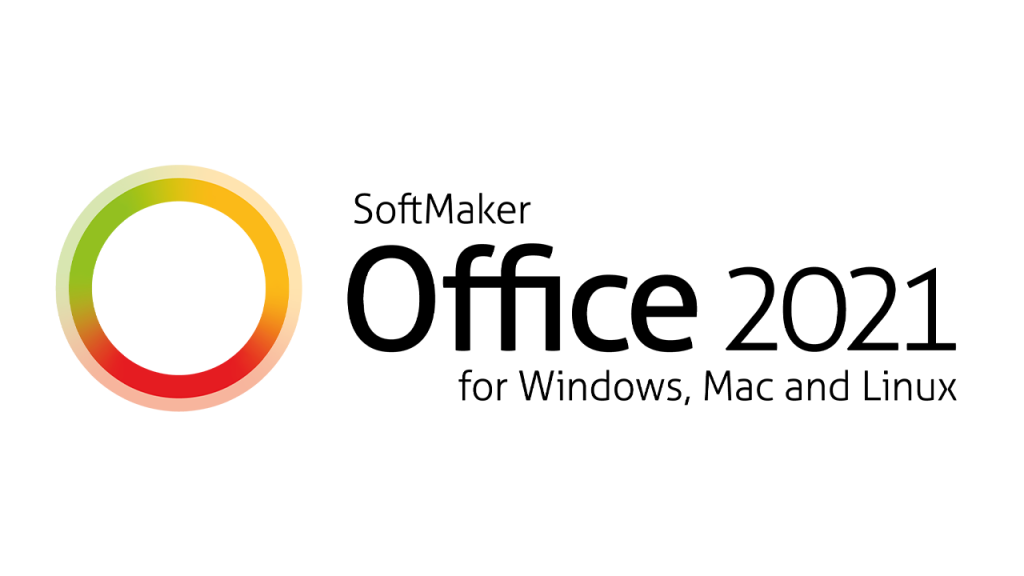 Features SoftMaker FreeOffice
Advantages of SoftMaker FreeOffice
Modern, intuitive ribbon interface similar to Microsoft Office
Good compatibility with Office file formats like Word, Excel and PowerPoint
Much smaller install size and system resource usage than Microsoft Office
Fast load times and performance
Disadvantages of SoftMaker FreeOffice
Lacks advanced features of paid Office like macros, mail merge, etc.
Limited templates and clip art compared to Microsoft Office.
No cloud storage integration or online collaboration features.
Fairly basic spreadsheet functionality – fewer functions than Excel.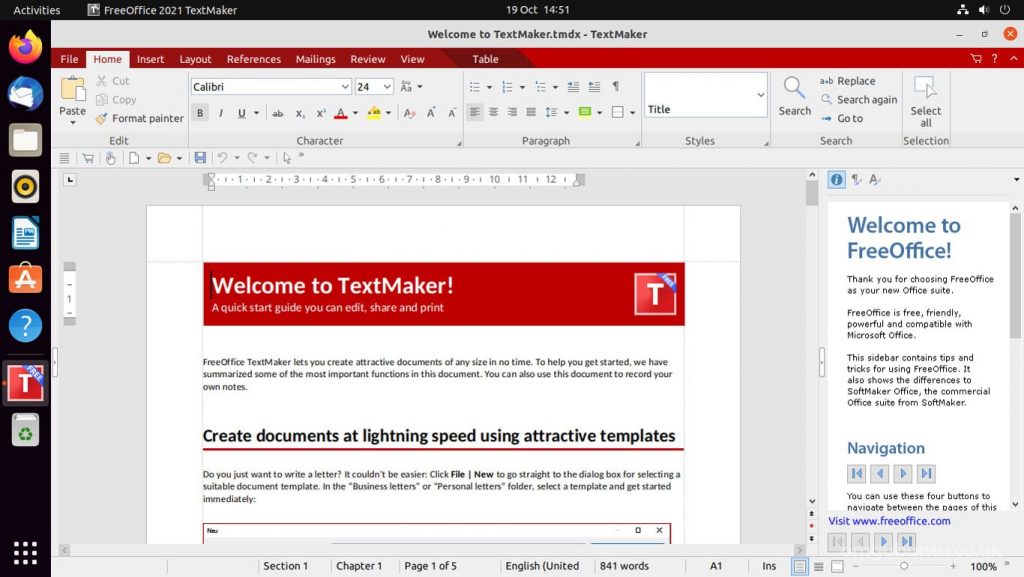 SoftMaker FreeOffice System Requirements
Windows 10, 8, 7, Vista or XP
300 MHz CPU or faster
256 MB RAM
370 MB free hard disk space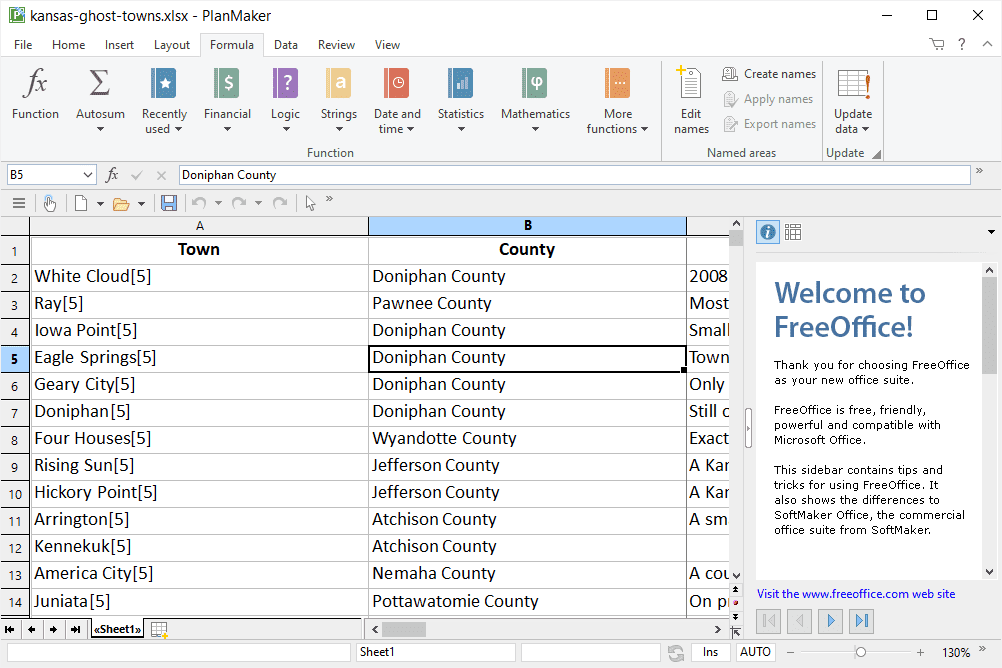 Basic functions SoftMaker FreeOffice
Create, edit, format documents
Fonts, colors, styles, alignments
Headers, footers, page layouts
Tables, images, shapes insertion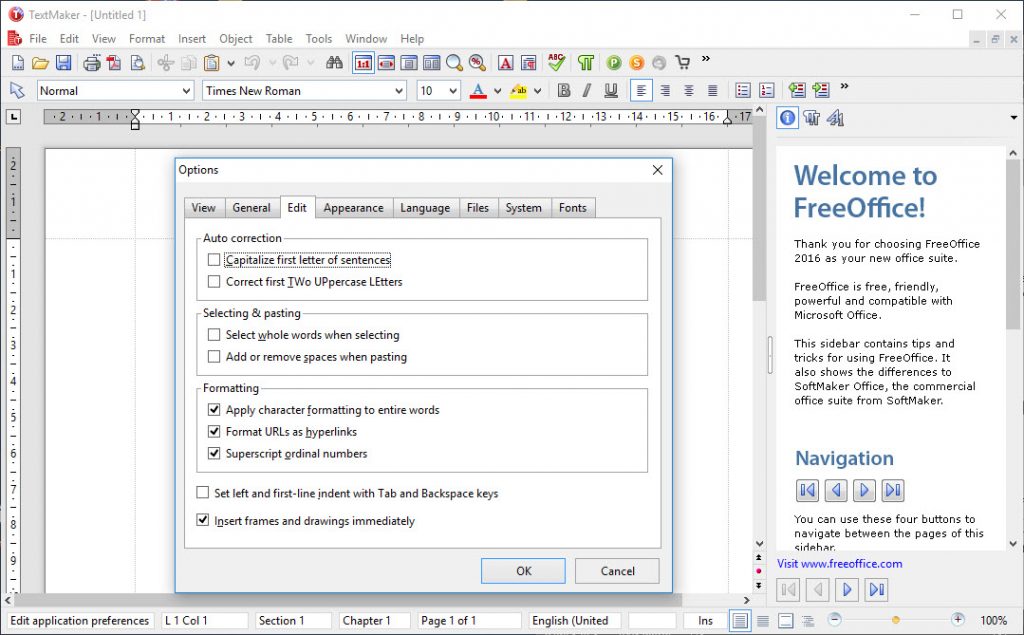 Get SoftMaker FreeOffice productivity apps
TextMaker
Standard word processing features like fonts, formatting, spellcheck, etc.
Supports text, images, tables, shapes, charts insertion
Headers, footers, page numbers, page layout options
Find and replace across documents
Track changes and comments for collaborating
PlanMaker
Basic spreadsheet functions like SUM, AVERAGE, COUNT, MAX, etc.
Chart creation from spreadsheet data
Find and replace cell data across worksheets
Sort or filter cell ranges
How To Download and install SoftMaker FreeOffice
You can download SoftMaker FreeOffice on our website at the bottom of this page.

FAQ
Q: What is SoftMaker FreeOffice?
A: It is a free office suite that includes a word processor, greed, and presentation software. It is developed by SoftMaker Software GmbH.
Q: What features does SoftMaker FreeOffice include?
A: It includes basic features like word processing, greeds, presentations, PDF editing, and compatibility with Microsoft Office file formats. It supports basic editing, tables, charts, and other common office suite features.
Q: How does SoftMaker FreeOffice compare to Microsoft Office?
A: It provides a basic free alternative to Microsoft Office with compatibility for opening and editing Office documents. It lacks some of the advanced features of Microsoft Office but provides core functionality for basic office needs. The paid Office 2021 provides additional features more comparable to Microsoft Office.
SoftMaker FreeOffice Product Activation Key
C6PE3-E643I-7EHRT
7S95D-592I5-CSF9N
88EDJ-J6KLN-7G6A6
G27T4-9P75P-BL295
5H8OA-TCA88-6IB1G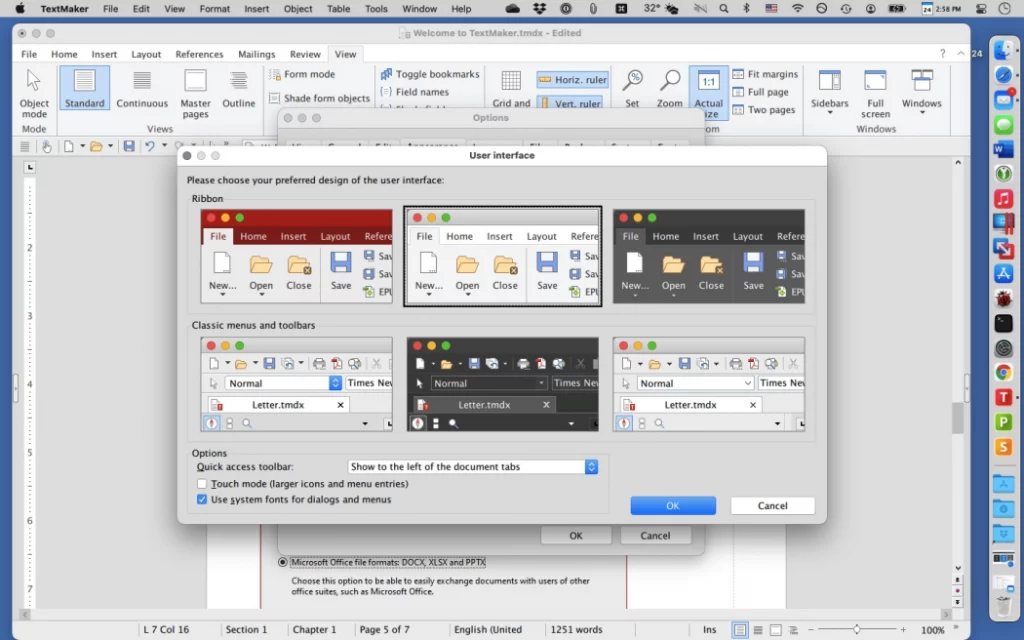 Alternative programs
LibreOffice – This free and open source office suite is a full-featured alternative to MS Office export. It includes word processing, spreadsheet, presentation, drawing, and database programs.
Apache OpenOffice – Another open source office software suite. It's compatible with MS Office files and available for Windows, Mac, and Linux.
WPS Office Free – This lightweight office suite is made by Kingsoft. It has writer, spreadsheet, and presentation apps and supports DOC, DOCX, and PDF files.
Conclusion
In conclusion, SoftMaker FreeOffice for Windows 11 is undeniably the best free alternative to Microsoft Office. With its latest version, users can easily download SoftMaker and enjoy its various features. FreeOffice 2021 includes FreeOffice PlanMaker, FreeOffice Presentations, and FreeOffice TextMaker, offering a comprehensive suite for creating and editing Microsoft Office documents.

The download of SoftMaker FreeOffice is free, and users can also get a license to access additional features. To activate the software, users can use the crack or activator, or obtain an authorization code or serial. FreeOffice has received rave reviews for its performance and user-friendly interface.
Additionally, FreeOffice for Windows also supports PDF editing, making it a versatile tool for various document tasks. Overall, those in need of a free alternative to Microsoft Office should definitely consider downloading SoftMaker FreeOffice for Windows.